MAIN EVENT WRESTLER'S. A to Z.
ARTEMIS ECLIPSE[
**NEW MASK AND LOGO FOR 2014** (Everything else is the same.)
HEIGHT: 6'1''
WEIGHT 228lbs.
PHYSICAL DESCRIPTION: Has a body build much like AJ Styles.
ATTIRE:
- Dark Purple and White Chuck Taylor All-Star's.
- Worn in denim skinny jeans.
- A chain hanging from his belt.
- A sleeveless Dark Purple tunic that has a hood.
- Dark Purple and Black MMA style gloves with arm warmers going up his arms to his elbows, black.
- His mask is Black with a large Dark Purple eclipsed moon symbol going  over it. His mouth area can be seen and he has a slight beard.
- He has dark purple contacts in his eyes.
- His hair is brown and goes past his nose, it can clearly be seen inside his hood.
BIOGRAPHY:  "ARTEMIS ECLIPSE" is a stage name that ________ _________ chose to not  have his family heritage be known. He was technically the bastard son of  _______ _______, obviously a very famous professional wrestler and  prominent in the 70's, 80's and 90's.
His  father was married at the time and Artemis's mother was just a fling  his father had while he was visiting Boston. His father took him to  wrestling events all the time because those in the business knew who he  was but didn't say a word.
In  1998 his father took him to WRESTLEMANIA XIV in Boston and the rest as  they say is history. Artemis decided there and then when he saw Stone  Cold win his Championship that he could do that too.
Artemis  then began running and doing cardio at a young age. When he turned 18  in 2002 he made his way to Chicago and started training with then up and  comers like CM Punk, Samoa Joe, Chris Hero and many others in that time  never telling any of them who he really was because he didn't want to  take the name and have his fathers lengthy shadow over his new at the  time career.
He  spent until 2006 going in and out of promotions like ROH, PWG, CZW, AAA  and FIP. He did small things as well in Canada, US and Mexico in school  gyms. Finally he decided to make his way to Japan.
There  he stayed and crafted a very unique style that blended many of his  favorites together. He learned various styles of martial arts. Not  limited to Hap Kee Do, Ju-Jitsu, Karate and Muay Thai Kickboxing. While  there he managed to wrestle in NJPW, Dragon Gate, and IWGP
Finally  in 2011 Artemis made his way back to the States and took up EWA, AWF,  JBW, HWA, BITW, ICW, SBW, SRW, IWA, EWNCW  and EGW on contract offers. He  stayed in those organizations bouncing back and fourth until 2014 when  he felt his body getting damaged he decided to go to one company only  and he chose the up and coming PWR.
He's already a proven veteran at only 29 years old and is ready to take on even more.
PAST ACCOMPLISHMENTS:
- 1 Time AWF TV Champion
- 6 Time ICW Insanity Champion
- 1 Time ICW X-Treme Champion
- 1 Time EWA  TV Champion
- 1 Time JBW Superfly Champion
- 1 Time BITW Intercontinental Champion
- 1 Time JBW Intercontinental Champion
- He is also a multi-time World Heavyweight Champion in ROH, SRW, SBW, PWG, and NJPW...
PERSONAL MOVES:
- "I'M SHIPPING UP TO BOSTON!" -- Rubix Cube (Finisher)
- "FADE TO BLACK" -- Dragonrana (Signature)
- "BLEED IT OUT" -- Running Knee Lift Bulldog
WRESTLING  STYLE: Artemis is very technical. He has many different styles rolled  into one. His submission style is like Bret Hart meets Chris Benoit. He  wrestles "Hard Style" like Kazuchika Okada and  Kevin Steen. And he has  fluidity in ability like El Generico and CM Punk.
With that being said, it's very hard to predict Artemis in the ring to to the various styles used at any given time.
THEME SONG: " PROTEST THE HERO - WITHOUT PREJUDICE"
ENTRANCE:  As the music blares over the speakers and the lights flash in a rainbow  of color, Artemis Eclipse comes onto the stage. His hood is up and head  is down.
He  raises his left arm holding a kendo stick high into the air, as the  beat fully kicks in, he throws his head back and throws his arms out to  the side and screams "ECLIPSE THE EARTH!" as he makes his way down the  ramp.
He  hops onto the ring steps and throws his arms out again as he's met with  cheers and boos of all kind. He jumps over the top rope and into the  ring where he puts his hood down all the way and sits on the opposite  side top turnbuckle awaiting his opponents arrival.
             ...............................................................
......................................................................................
             ...............................................................
Base Picture:
Full Name(s): Darius
Nickname(s): The Reaper
Age(s): 25
Height: 6'4"
Weight: 250 lbs
Hometown: Saratoga Springs, New York
Billed From: Saratoga Springs, New York
Background Story/Gimmick: Darius's career began with ICW, EWA, and HWA. He was well known for his hardcore similarities to Mick Foley. Whenever he gets the chance, Darius will utilize any tool that he can get his hands on to mutilate his opponent. Darius was raised to defend himself by any means necessary and those means usually involve a weapon.
Alignment: N/A
Fighting Style: Technical Brawler; Mostly uses kicks (Big boot, side kick, etc.) and elbow shots, but has also mastered submission moves. Similar to Edge & Punk.
Signature Moves: Big Boot to a running opponent (Usually after an Irish Whip), Tigerbomb
Finishing Moves:
Mayhem's Martyr (Gorilla Press Spinebuster)
https://www.youtube.com/watch?v=y1NU1WXVXUU
Executioner's Calling (Spear)
https://www.youtube.com/watch?v=RNjJbBxKZ8Q
Entrance Music: Devil You Know - Shut it Down
https://www.youtube.com/watch?v=0C17On6h3HQ
Entrance Description: N/A
                      ....................................
....................................................................................
                      ....................................
Base Pic:
Full Name(s): Gillz (Masked)
Nickname(s): The Hardcore King
Age(s): 28
Height: 6 ft 2
Weight: 225 Lbs
Hometown: Glasgow, Scotland
Billed From: The Valley of Kings
Background Story/Gimmick: Originally working as Gillz during older Efed days where he was originally a very cocky heel before later babyface turn, now hidden beneath a mask he fights under the monicker "The Hardcore King" now far more willing to bring a weapon into a match, regardless of the rules surrounding it, acting as if he is truly the best and claiming that the throne is his and all he needs is a title to prove it, similarly he has backup in the form of his self title Knights (Will do forms for a tag team thats connected who act as devoted followers)
Alignment: Heel
Fighting Style: Usually highflying while adding hardcore elements through weapons (Jeff Hardy is the closest similar wrestler)
Signature Moves: Con Chairto (Used more to attempt to injure in a beatdown) Legdrop (Top Rope) Plancha, Lionsault, A few punching and kicking combinations, Spinning heel kick, Most other moves can have a weapon added for damage
Finishing Moves: (Max Three) Lockpicker (Triangle Choke), Shooting Star Press, Double Underhook DDt
Entrance Music: While She Sleeps - Death Toll.
https://www.youtube.com/watch?v=zCdArPX1FpY
Entrance Description: For a special or important match he would rise up in his own throne flanked by his "Knights"
Added Information: Wears a mask similar to Kanes original with a skull painted on top
-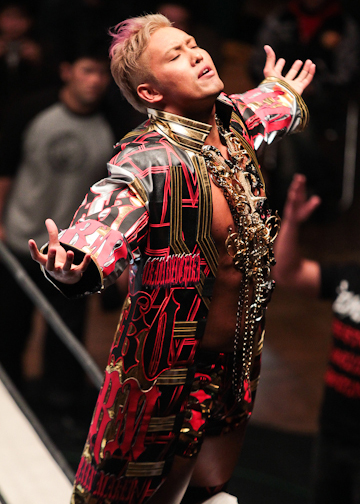 Full Name:
Kyojin

Age:
32

Height:
6'1

Weight:
222 lbs

Hometown:
Tokyo, Japan

Fights by way of:
Chicago, Illinois

Background Story/Gimmick:
Kyojin debuted in Insane Championship Wrestling in May 2012, going on to be a two-time ICW Insanity Champion (vacating the title both times, never losing it), before he won the right to an ICW World Championship match by defeating Shaz and Darius in a two-on-one handicap match.He went on to use this title shot to enter the main event of ICW's elite PPV event, Glory Days, going on to defeat Darius and the ICW World Champion Van Hooligan X to leave the show as the ICW World Champion. The company closed down not long afterwards, leaving Kyojin as the final ICW World Champion.It was during this time Kyojin was crowned ICW/IWA Superstar of the Year 2012, and eWN eFed Superstar of the Year 2012.Kyojin joined EWNCW after ICW closed down, continuing his feud with Van Hooligan X over the Rage Ignition Championship, before striking up a partnership and tag team with the 'Sexual Sensation' Malcolm Adonis, as the two became known as Hot Wasabi. They endured a hellacious feud with Jesting Madness, the 2012 Tag Team of the Year, before they defeated The New Assault Program to become EWNCW Tag Team Champions. This reign was brought to an end as Adonis retired at Destiny's Calling 2013, and Hot Wasabi were crowned EWNCW Tag Team of the Year 2013.At the same time as his EWNCW journey, Kyojin joined IWA, the fed which has risen from the ashes of ICW. At the company's first PPV, Thirst For Blood, Kyojin was crowned the inaugural ICW Endurance Champion, defeating Mr. Smyth, Sagittarius Blue and Frankie Fletcher in a Fatal Four Way match.Kyojin kept the Endurance Championship until Full Throttle, when his representative KJ Punk was defeated by Mr. Smyth's representative Darius, causing Smyth to leave with the Endurance Championship. The decision was overturned on the very next episode of IWA Chaos, with Kyojin becoming a two-time Endurance Champion. This reign didn't last very long, however, as Kyojin lost the title back to Mr. Smyth at Destined For Immortality 2013, IWA's elite event.Destined For Immortality turned into somewhat of a turning point for Kyojin, as the fan-friendly Superstar of the Year ended the show by turning on one of the greatest of all time, Jman, after seemingly setting out to help the veteran. Kyojin, now calling himself Greatness Personified, and demanding to be shown more respect because of the fact he was voted Superstar of the Year, took this new favoured arrogance and used it to his advantage to dirtily defeat Chaos superstars in his quest to become IWA World Heavyweight Champion. After disposing of Jman, quite literally driving the veteran out of IWA, Kyojin went on to feud with Malcolm Adonis, Shaz and Sagittarius Blue, before Full Throttle 2014, where Kyojin and Blue stole the show inside Hell in a Cell.Blue had been crowned number one contender to the IWA World Heavyweight Championship, in the possession of Mike Hawk, having won the 30 man Insane Asylum match a month prior, but Kyojin overcame Blue at Full Throttle. On the very next Chaos, Hawk injured Blue, putting him out of action and cancelling their prospective main event Championship match at Destined For Immortality II. Kyojin took offense to this, and challenged Hawk to put the title on the line against him at the premier event.Although Kyojin came up short, he regained the admiration of the fans by pushing Mike Hawk all the way in what was one of the most anticipated matches in 'fedding history.

Alignment:
Would prefer face, but can be heel or tweener if needs be.

Fighting Style:
Cody Rhodes mixed with Ricochet. Lot of kicks, suplexes and high flying moves.

Signature Moves:
Brain Buster (usually as a set-up for the Rising Sun, sometimes off the top rope or a foreign object in desperation)SuperkickSuicide Dive

Finishing Moves:
Rising Sun (Double Rotation Moonsault):
https://www.youtube.com/watch?v=Ndr2Q4HbrygTruth Hurts (Beautiful Disaster Kick):https://www.youtube.com/watch?v=iXTKiAWOe0ACrossfacehttps://www.youtube.com/watch?v=75W_thu3_JI
Entrance Music:
One Ok Rock- No Scared:
[video=youtube;qKW4lqj2cNU]
https://www.youtube.com/watch?v=qKW4lqj2cNU[/video]
Entrance Description:
Kyojin walks out to the stage and pyro (sparks) cascade down behind him, he throws his arms out and pauses for a few moments, before making his way down the ramp. (High fiving fans if he's face). He walks around the ring and steps onto the far side of the apron, climbing up to the top rope and throwing his arms out again, before dropping into the ring.

Full Achievement List:
eWN eFed Superstar of the Year 2012Final ICW World ChampionFinal HWA Adrenaline ChampionFinal EWNCW Inferno Ignition ChampionICW/IWA Superstar of the Year 2012EWNCW Tag Team of the Year 2013 (as part of Hot Wasabi with Malcolm Adonis)Former EWNCW Tag Team Champion (as part of Hot Wasabi with Malcolm Adonis)Former 2x IWA Endurance ChampionFormer 2x ICW Insanity ChampioneWN Grand Prix 2 Runner Up

ICW/IWA Feud of the Year 2012 (Kyojin vs. Van Hooligan X vs. Darius)
-
Base Pic:
[B]Name:  Mike Hawk  Real Name: Takahashi Taka
Nicknames: Ultimate Aerial Predator, Mr. Mayhem
Height:5"9
Weight:225
Face/Heel: Heelish Tweener
Entrance: [video=youtube;28GaKoCuobU]
https://www.youtube.com/watch?v=28GaKoCuobU[/video]
Hometown: Tokyo, Japan
Style: High Flyer, Martial Artist
Sig. Moves: Grounded Dragon Sleeper, belly to belly suplex, DDT(snap, tornado, running),  suicide dives, martial arts kicks, springboards ddt, springboard kick, chops and  crossbodys
Finishers: Ground: Mayhem Driver (Fisherman Driver) and Top rope: Phoenix Splash
Bio: After leaving Japan to look for better competition in the States.  Hawk quickly rose to fame in the EWA, IWA, EWNCW, and JBW even capturing multiple titles.  Hawk is very aggressive by looking to inflict maximum damage to anyone he faces and uses moves designed at destroying his opponents bodies.  Over the last year Hawk has taken on a dark persona and uses it to inflict mental warfare to win his fights before he even enters a ring.  After IWA shut down, Hawk returned to Japan to tone his skills even more and adapt his culture back into his style.
-
Base Picture:
Full Name(s): Shaz
Nickname(s): 'The Lone Wolf' and 'The Rapid King'
Height: 6 foot
Weight: 215lb
Hometown: Brixton
Billed From: London, England
Background Story/Gimmick: Shaz grew up in a rough area, got locked up after being involved in a gang-attack. He got bullied in prison, but ended up taking that as a chance to build himself up into a bad motherfucker, which lead to people fearing him as he got revenge on all those who hurt him. He then decided to pursue a career in wrestling as it was an appropriate place for him to unleash his violent ways.
Alignment: Heel
Fighting Style: High Flyer
Finishing Moves (Max Three): Flipping Piledriver (Brixton Disaster), Corkscrew Shooting Star Press & Rear Naked Choke
Signatures: Moonsault, Cradle DDT, Roundhouse Kick
Other Moves: Just other high flying moves, not really all that fussed.
Entrance Music:
https://www.youtube.com/watch?v=tHioEC9itTg
Entrance Description: The music hits- and Shaz comes out. He points to the ground when the beat drops- and the pyro goes off behind him.
Added Information:  He's an ex-convict, former world champion
                        ..................................
.....................................................................................
                        ..................................
Base Picture:
Full Name(s): Orion Slayde
Nickname(s): To be edited in later
Age(s): 30
Height: 6' 4"
Weight: 253 lbs
Hometown: Chelsea, Mass.
Billed From: Chelsea, Mass.
Background Story/Gimmick: To be edited in later
Alignment:
Fighting Style: Orton. Very clean, methodical and looking to hurt people.
Signature Moves: Fisherman DDT; Shadow's Embrace (Triangle Choke)
Finishing Moves: Shadows of the Abyss (Double Hammerlock Piledriver)
Other moves: Corner clothesline, Dropkick, Sleeper Hold, European uppercut, Neckbreaker, Backbreaker, Leaping knee drop, Superplex, Scoop Powerslam, Bicycle Kick and Suicide dive
Entrance Music: Dauntless;
https://www.youtube.com/watch?v=XHMaeYGco7I
Entrance Description: Generic
Added Information: Surgically repaired left knee. Scars on the left side of the face received in the first ever Gates of Hell.
                       ...............................
.....................................................................................
                       ...............................
Base Picture:
Full name: Tommy Thunder
Nicknames: 'The Storm'/The Best in the World at What he does'/The Division 1 Superstar/The Must See MVP
Age: 31
Height: 6'1"
Weight: 227lbs
Hometown: Colorado Springs, Colorado
Billed from: Colorado Springs, Colorado
Background Story: Tommy Thunder grew up as a wrestling fan all his life. Despite always wanting to eventually become a professional wrestler, it wasn't until after he'd graduated from university at the age of 21 that he decided to really start training. Having previously trained in the States during his study years and partaking in amateur collegiate wrestling, with moderate success, he then decided to travel to Japan, where he joined a renown wrestling school and trained hard for several years.
After 4 hard years, at the age of 25, Thunder was now ready to take up the challenge of becoming a professional wrestler, and he was head hunted and signed by EWNCW. Thunder spent 6 years at the promotion, and in this time became the company's first ever champion at their first ever ppv when he won the EWNCW Forum Championship (later known as the Ignition Championship). During his time at the company he also went on to become International Champion, World Heavyweight Champion and the company's longest reigning EWNCW Champion, which also made him one of only a handful of multi-time world champions in the company's history.
During his time in EWNCW, he also spent a lengthy stint in HWA where he became a 2 time world champion, making him a 4 time world champion in total. Thunder also made special one off appearances in other companies during his time in EWNCW, including ICW and IWA.
With all companies now closed, Thunder is looking for a fresh challenge and is determined to rise to the top of yet another company, with one goal on his mind; to win.
Gimmick: When Thunder first started off in EWNCW he had a self-introducing, loudmouth gimmick very similar to that of Mr Kennedy, calling himself the 'Must see MVP' of EWNCW, complete with his own entrance and own special mic dropping down from the ceiling above for him to introduce himself to the audiences, or his 'VIP's' as he referred to them.
Upon winning his first world Championship, he changed up his gimmick to that of a straight talking, no bullshit, controversial figure given the circumstances of his title win (where he left the company (storyline) after the match). He would often speak his mind when addressing his colleagues, and even management and there was never a dull moment to be had when a microphone was in his hand.
For his run in HWA Thunder donned a much more different gimmick, similar to the gimmick Chris Jericho used back in 2008-2010. He played the bad guy; donning suits and ties, speaking in a slow and meaningful manner and using a more valedictorian-esque vocabulary, proclaiming to be the only 'division 1 superstar' in the company.
*Note to Creative*
I'll decide which gimmick to use depending on what alignment you'll want me to be. It may be one of the above gimmicks, it may be new one completely, we'll see.
Alignment: Open to whatever.
Wrestling Style: Hybrid technical wrestler, combining mat based grappling, submission with some high flying.
Finishers: Shinning Wizzard, Anaconda Vice
Signatures: Eye of the Storm (Eye of the Hurricane), Storm Effect (Side Effect), Diving Elbow Drop, sitout facebuster (sometimes from the top rope)
Other moves: key lock, dragon sleeper, surfboard, multiple kick variations (shoot, back, roundhouse), enziguri, missile/standing dropkick, knife-edge chop, diving leg drop, asai moonsault from apron to man/men on the outside, corner clothesline/bulldog combo (like Matt Hardy), DDT/inverted DDT, arm trap swinging neckbreaker, snap suplex, tiger suplex (sometimes bridged into a pin), northern lights suplex (sometimes bridged into a pin), snap scoop powerslam (sometimes as a counter to an oncoming opponent).
Entrance music:
https://www.youtube.com/watch?v=iIpyDIaHtBA
                      ...............................
......................................................................................
                      ................................
Base Picture:
Full Name: Torture
Nicknames: The Man in Black, The Man in Latex.
Age: Unknown. (he says he's under 30)
Height: 6 f 0 in.
Weight: 220 pounds.
Hometown: Unknown.
Billed From: The Torture Chamber
Background Story/Gimmick: Not know much. A problematic child and teenager, he soon developed a fascination for torturing animals and bondage sex. He was accused of appearing on snuff movies, torturing and raping young girls, but accusation was dropped due to lack of proof. He went under psychiatric treatment, and was cleared as sane, with possible outbursts of violence. As a way to channel his pulsions, he started wrestling. Soon, he showed his abilities as a wrestler, and trained with William Regal and Taka Michinoku. He went to Mexico to hone his skills in CMLL, where he captured the CMLL Light Heavyweight championship, and CZW, where he was Wired TV Champion. He can fight on technical matches, but thrives on hardcore bouts.
When signed to IWA, he feuded with Orion Slayde, scoring a win and a loss, before losing the final feud of the match. He then moved to fight Ace Note, losing the match that defined who was the better of the two. He joined the Nest, but failed to achieve greatness, therefore, he was expelled after Mike Hawk became dual champion. He moved to fight Kaige Chamberlain, and thought he had got rid of him after a spectacular beatdown at Full Throttle, but Kaige came back with a vengeance. In the go home show for DFI2, Torture revealed Kaige's father had paid Mr. Smyth to get his son into IWA, driving his opponent crazy, something that allowed Torture to get the win in their match. After being accused of running Kyojin over, he stole Benny the Ball's Blackout belt, making his intentions clear of getting a shot at Last Resort. He won a match to enter a fatal fourway, and on IWA's last PPV, he pinned BTB to become the final BlackOut champ.
His gimmick is as a BDSM master, likes to use typical BDSM objects such as floggers riding canes and such. He has his own Chamber, where he is often seen performming sessions with female slaves. He has a preference for spanking, and his own hand as weapon of choice.
Alignment: (Über) Heel
Fighting Style: Technical with some light high flying. (Early 2000's Chris Jericho)
Signature Moves:
Torture Crux: (Sitout crucifix powerbomb:
https://www.youtube.com/watch?v=a98gL2kGUyU
)
Michinoku Driver II:
https://www.youtube.com/watch?v=pLJ0RWh8AKQ
Frankensteiner:
https://www.youtube.com/watch?v=cnmTwv_3A6k
Curse of the Damned: (Colt Cabana Billy Goat's Curse:
https://www.youtube.com/watch?v=r2lk_xd-Vjc
)
Other moves:
corkscrew plancha,
Suplexes (belly to belly, german, northern lights, saito),
Shining Triangle:
https://www.youtube.com/watch?v=d235bxYcMBs,
Flapjack,
Dropkicks (Standing, missile, top rope)
Floatover Modified Stunt Rider stretch (see from 1:41 to 1:51https://www.youtube.com/watch?v=fKaY9R6VzHM)
I Am The Parka (corkscrew moonsault),
spinning heel kick,
double underhook DDT.
Finishing Moves: Wheel of Torture (Sliced Bread #2:
https://www.youtube.com/watch?v=_GmDDPKTdoc
)
Torture Sault (Lionsault:
https://www.youtube.com/watch?v=gy-GoXEiXqY
)
Arm Reaper (Fujiwara Armbar:
https://www.youtube.com/watch?v=JEzylTX2pt0
)
Entrance Music:
https://www.youtube.com/watch?v=i_4J8xgA-EU
                      ..................................
......................................................................................
                      ...................................
-


Last edited by THE HEARTBREAK KID on Fri Nov 21, 2014 8:12 am; edited 14 times in total